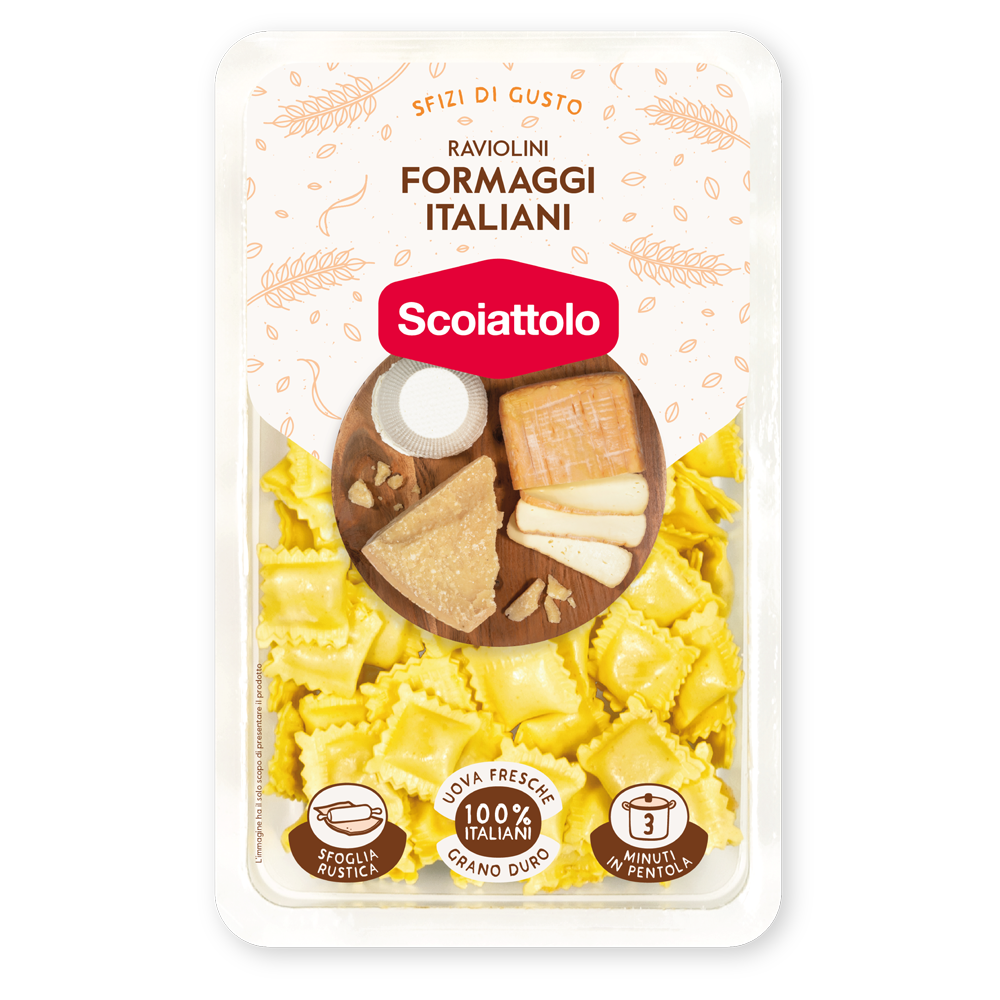 RAVIOLINI WITH ITALIAN CHEESES

The small Ravioli with Italian Cheeses are the latest delicious novelty born in Scoiattolo kitchens! The combination of Taleggio PDO, mozzarella and ricotta gives life to a strong flavor: perfect for those who love the excellence of Italian cheeses.
The Raviolini are made of a rustic pastry, produced exclusively with 100% italian durum wheat semolina and italian fresh barn egg, coming from a short, controlled and high quality supply chain.
Their shape, much-loved by both adults and children, has even more filling: they are perfect with a little EVO oil or in many different recipes! During coldest months, taste the Raviolini in soup, and let yourselves get cuddled in their enveloping flavor!
The new packaging, with 70% recycled plastic and 100% recycled paper, tells our desire for transparency and sustainability: the choice to bring a fresh pasta you can trust to your table. Discover our commitment to a sustainable company.
Cooking time: 3 minutes in a pot
Net weight: 200 g.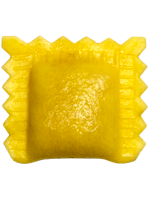 Cooking in a pot
Bring a pot of water to boil, add a pinch of salt, pour the Raviolini and cook for 3 minutes.
Ingredients:
Pasta 65%: durum wheat semolina, 23% egg, water. Filling 35%: 21,5% ricotta (whey, cream, salt, acidity regulator: citric acid), breadcrumbs (type "0" soft wheat flour, salt, brewer's yeast), sunflower oil, whey powder, 8,5% Taleggio PDO (contains milk), 6,5% mascarpone (contains milk), durum wheat semolina, 3% Parmigiano Reggiano PDO (contains milk), salt, thickener: cellulose powder, natural flavor, yeast extract.
May contain: nuts, shellfish, fish, soy, celery.
Nutrition facts (average values per 100g):
NUTRITION DECLARATION
Average values per 100g.
Energy 1432 kJ / 341 kcal
Fat 11 g
of which: saturates 3,2 g
Carbohydrate 48 g
of which: sugars 5,8 g
Fiber 2,8 g
Protein 11 g
Salt 1,1 g
You could be interested into