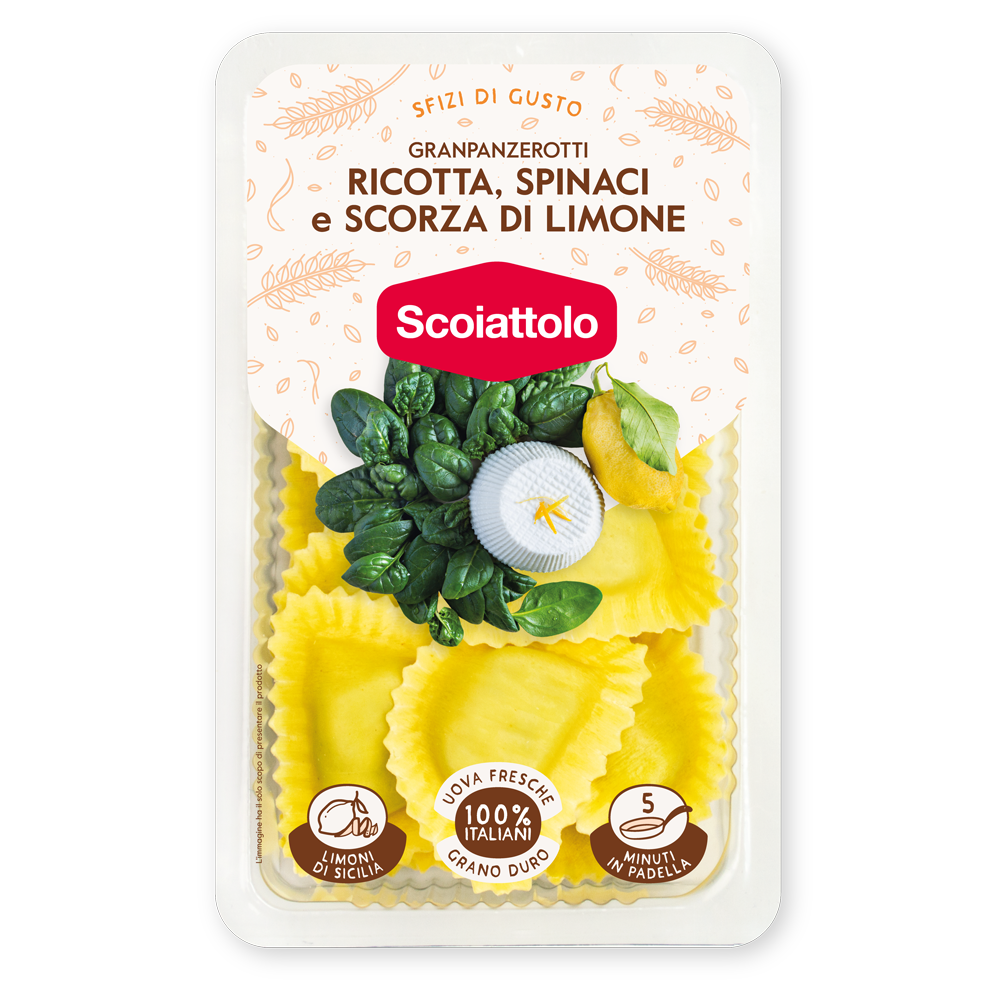 GRANPANZEROTTI WITH RICOTTA, SPINACH AND LEMON ZEST

Granpanzerotti with ricotta, spinach and lemon zest are a new take on the traditional recipe, bringing a DELICATE, FRAGRANT NOTE thanks to the zest of Italian Acireale lemons. The pasta, made with only durum wheat semolina and 23% free-range Italian eggs, is enhanced by being drawn on bronze plates, which give it a special consistency that means it cooks rapidly. Original and delicate, for anyone who likes to try something new without foregoing the traditional taste of fresh pasta.
Cooking time: 5 minutes directly in the frying pan
Weight: 200 g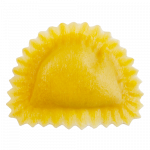 Cooking in the frying pan
Heat a little extra virgin olive oil (or melt a knob of butter) in a frying pan, add 200 ml of water and a pinch of salt. Add the Granpanzerotti and cook for about 5 minutes until the water has evaporated. Serve.
Cooking in the saucepan
Bring a saucepan of salted water to the boil, add the Granpanzerotti and cook for 3-4 minutes on a medium-high heat. Add a condiment of your choice and serve.
Ingredients
Filling 52%: ricotta 56.5% (milk whey, milk cream, salt, acidifier: citric acid), powdered milk whey, spinach 10%, cream, breadcrumbs (soft wheat flour type "0", salt, brewer's yeast), lemon zest 3%, salt, dried spinach 1%.
Pasta 48%: durum wheat semolina, egg 23%, water.
May contain: walnuts, crustaceans, fish, soy, celery.
Nutritional table (average values for 100g)
NUTRITION DECLARATION
Energy 983 kJ – 233 kcal
Fats 5 g
of which satured fats 2,9 g
Carbohydrates 37 g
of which sugars 7,4 g
Fibres 1,8 g
Proteins 9,1 g
Salt 1,3 g
You could be interested into