PERLINE WITH PARMIGIANO REGGIANO PDO

Perline with Parmigiano Reggiano PDO are a ONE-OF-A-KIND PRODUCT, demonstrating Scoiattolo's desire to reinvent fresh pasta and its fillings. The Parmigiano Reggiano PDO is prepared, directly in our kitchens, taken from whole wheels, to maintain the purity of the ingredient AUTHORISED BY THE CONSORTIUM. The cute, fun little pasta bag is made only with durum wheat semolina and 23% free-range Italian eggs.
Cooking time: 3 min
Weight: 250 g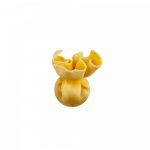 Cooking in the saucepan
Bring a saucepan of salted water to the boil, add the Perline and cook for 3 minutes on a medium-high heat. Add a condiment of your choice and serve.
Cooking in a frying pan – Heat a little extra virgin olive oil (or melt a knob of butter) in a frying pan, add 200 ml of water and a pinch of salt. Add the Perline and cook for about 5 minutes until the water has evaporated. Serve.
Ingredients
Pasta 63%: durum wheat semolina, egg 23%, water.
Filling 37%: water, Parmigiano Reggiano PDO 15% (milk, salt, rennet), powdered milk whey, durum wheat semolina, sunflower oil, breadcrumbs (soft wheat flour type "0", salt, brewer's yeast), potato granules, vegetable fibre, salt, yeast extract, nutmeg.
May contain: walnuts, crustaceans, fish, soy, celery.
Autorizzazione Consorzio Parmigiano Reggiano.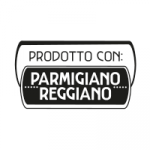 Nutritional table (average values for 100g)
NUTRITION DECLARATION
Energy 1316 kJ – 312 kcal
Fats 7,3 g
of which satured fats 2 g
Carbohydrates 48 g
of which sugars 5,3 g
Fibres 3,2 g
Proteins 12 g
Salt 1,2 g
You could be interested into